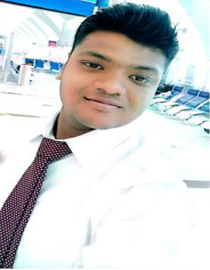 Dr. Mrinal Kanti Das
Assistant Professor, Department of Chemistry
Educational Qualifications
M.Sc. (Visva Bharati), Ph.D. (IISER Bhopal), 1st Postdoc (IISER Bhopal), 2nd Postdoc (Georgetown University, Washington, DC, USA)/td>
Specialization
Organic Chemistry
Courses Undertaken
UG level
Area of Research

Total Synthesis of Architecturally Novel Natural and Unnatural Products, Synthetic Methodology.
Asymmetric catalysis.
Development of new catalytic methods involving novel reactivity concepts to enable the rapid generation of architecturally complex chiral molecules and natural products from simple building blocks.
Developing Novel Building Blocks for Disruptive Design of 1D- and 2D-π-Conjugated Polymers and H-shaped molecules.
Awards & Fellowships:

Cleared Joint CSIR-UGC (National Eligibility Test) June 2012 and obtained CSIR JRF with All India Rank 101.
Cleared Joint CSIR-UGC (National Eligibility Test) December 2012 and obtained CSIR JRF with All India Rank 65.
Cleared Joint CSIR-UGC (LS) (National Eligibility Test) June 2013 and obtained CSIR JRF with All India Rank 54.
Cleared Graduate Aptitude Test in Engineering (GATE) 2013
Senior Research Fellowship (SRF-CSIR), India (2015-2018) [for doctoral studies]
IISER Bhopal Institute Postdoctoral Fellowship, India (September 11, 2018– May 11, 2019)
Georgetown University Institute Postdoctoral Fellowship, USA (May 21, 2019– March 13, 2020)
Publications
Sl. no.
Authors
Title
Book/Journal
Year
ISBN/ISSN
1
Das, M. K.;‡ De, S.;‡ Shubhashish.; Bisai, A.
Concise total syntheses of (±)-mesembrane and (±)-crinane
Org. Biomol. Chem. 2015, 13, 3585-3588. (RSC)
2015
1477-0520
2
De, S.; Das, M. K.; Bhunia, S.; Bisai, A.
Unified Approach to the Spiro(pyrrolidinyl-oxindole) and Hexahydropyrrolo[2,3-b]indole Alkaloids: Total Syntheses of Pseudophrynamines 270 and 272A
Org. Lett. 2015, 17, 5922–5925. (ACS)
2015
1523-7060
3
Das, M. K.; De, S.; Shubhashish; Bisai, A.
Concise Total Syntheses of (±)-joubertiamine, (±)-O-methyljoubertiamine, (±)-3'-methoxy-4'-O-methyljoubertiamine, (±)-mesembrane and (±)-crinane
Synthesis 2016, 48, 2093-2104. (Thieme)
2016
0039-7881
4
De, S.; Das, M. K.; Roy, A.; Bisai, A.
Synthesis of 2 Oxindoles Sharing Vicinal All-Carbon Quaternary Stereocenters via Organocatalytic Aldol Reaction
J. Org. Chem. 2016, 81, 12258-12274. (ACS)
2016
0022-3563
5
Kumar, N.; Das, M. K.; Ghosh, S.; Bisai, A.
Development of catalytic deacylative alkylations (DaA) of 3-acyl-2-oxindoles: total synthesis of meso-chimonanthine and related alkaloids
Chem.Commun. 2017, 53, 2170-2173 (RSC)
2017
1359-7345
6
Das, M. K.; Kumar, N.; Bisai, A.
Catalytic Asymmetric Total Syntheses of Naturally Occurring Amaryllidaceae Alkaloids, (−)-Crinine, (−)-epi-Crinine, (−)-Oxocrinine, (+)-epi-Elwesine, (+)-Vittatine, and (+)-epi-Vittatine
Org. Lett. 2018, 20, 4421-4424. (ACS)
2018
1523-7060
7
Das, M. K.;‡ Roy.; A.;‡ Chaudhuri, S.; Bisai, A.
Transition-Metal Free Oxidative Alkynylation of 2-Oxindoles with Ethynylbenziodoxolone (EBX) Reagents
J. Org. Chem. 2018, 83, 403-421. (ACS)
2018
0022-3563
8
Chaudhuri, S.; Bhunia, S.; Roy.; A.; Das, M. K.; Bisai, A.
Biomimetic Total Syntheses of Clavine Alkaloids
Org. Lett. 2018, 20, 288-291.(ACS)
2018
1523-7060
9
Das, M. K.;‡ Dinda, K. B.;‡ Bisai, V.
A unified approach to sesquiterpenes sharing trimethyl(p-tolyl) cyclopentanes: Formal total synthesis of (±)-laurokamurene B
Tetrahedron Lett. 2019, 60, 2039-2042. (Elsevier)
2019
0040-4039
10
Maity, A.;‡ Roy, A.;‡ Das, M. K.; De, S.; Naskar, M.; Bisai, A.
Oxidative Cyanation of 2-Oxindoles: Formal Total Synthesis of (±)-Gliocladin C
Org. Biomol. Chem. 2020, 18, 1679-1684. (RSC)
2020
1477-0520
11
Das, M. K.; Yadav, A.; Majumdar, S.; Bisai, A.
Catalytic Deacylative Alkylations (DaA) of Enolcarbonates: Total Synthesis of (±)-Crinane
Tetrahedron Lett. 2020, 61, XXX-XXX. (DOI: 10.1016/j.tetlet.2020.152129) (Elsevier)
2020
0040-4039
Participation in Seminar/Conferences/Workshops
Sl. no.
Name of the programme
National/International
Date(s)
Title of the presentation
Organized by
1
J-NOST Conference
International
5th-7th Dec., 2013
IISER Bhopal
2
Interaction: In-house Symposium
National
30th August 2014
IISER Bhopal
3
Interaction: In-house Symposium
National
1th October 2016
Poster Title: Unified Approach to the Asymmetric Total Syntheses of Amaryllidaceae Alkaloids of Biological Importance
IISER Bhopal
4
Pre-ICOS Conference
International
9th-10th Dec., 2016
Poster Title: Unified Approach to the Asymmetric Total Syntheses of Amaryllidaceae Alkaloids of Biological Importance
IISER Bhopal
5
Royal Society of Chemistry-IISERB Symposium
International
3rd February 2015
IISER Bhopal
6
Visible Light Photoredox Catalysis towards Sustainable Future
National
20th August-02nd September 2016
IISER Bhopal
7
J-NOST Conference
International
9th-12th November 2017
Oral Presentation Title: Unified Total Syntheses of Amaryllidaceae Alkaloids and Related Natural Products
Banaras Hindu University, Varanasi
8
Inter-Disciplinary Explorations in Chemistry
International
06th-08th Dec., 2018
Oral Presentation Title: Catalytic Deacylative Alkylations (DaA) of Enolcarbonates: Total Syntheses of Amaryllidaceae Alkaloids
IISER Bhopal